Mellisa's Challenge.... Accepted!



Mellisa over at
Chinook Jewelry
loves throwing out these Wednesday challenges and, I must admit, they make me think.
I decided this should be a bracelet charm (I have no way of knowing how big/small this is, so I'm just guessing, here). My first choice of accent would be these beads I found on Etsy.
My next choice are these sweet little lampwork beads. Veeerrry nice!


Because I don't want the focal to be overwhelmed, I'm keeping this simple... no chain, no spacers and an
antiqued copper toggle clasp
from Lima Beads (you'll have to click the link to see it... they won't let me link the picture up but it's perfect, trust me!)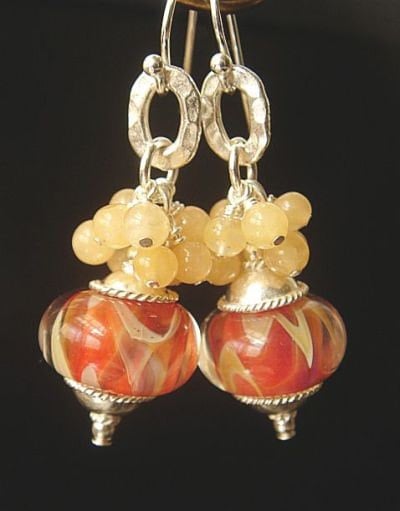 Kate's Artisan Jewelry


And I'd round it all off with this pair of earrings from Kate's Artisan Jewelry on Etsy:

Okay... it's your turn. What would YOU do?